Customized Lighting Enhancements
MobileMIX Entertainment can provide custom lighting solutions to set the mood and make your occasion more memorable. Color enhances emotions and responses. Your guests are always aware, even subconsciously, of lighting.
We can help you create the perfect atmosphere in any room that transforms the ordinary into extraordinary. Enhance classic into classy when you accent your color theme for a unique, dramatic and elegant look. Let our professional lighting services add beauty and grandeur to your event, giving your guests another reason to compliment your sophisticated tastes.
Up-Lighting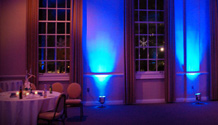 Up-lighting can impact your event and can be the perfect addition to enhance your décor and event theme. We can accent the room to virtually any color of your choice or offer expert advice on a complimentary color scheme. We utilize only the best in LED lighting technology so you will never have to worry about the lighting instruments becoming hot or posing a fire hazard when placed next to delicate fabrics. Your room can be set to one or multiple vibrant colors all evening or watch the room fade through different colors seamlessly. Up-lighting can undoubtedly be one of the best returns for your investment when considering impact versus cost.
Monogram Projection
Enhance the look of a room with a stunning visual that will grab the attention of everyone in attendance. We will work with you to create a customized, one of kind monogram pattern that will help symbolize your unique tastes. Monograms can be of various sizes and designs and can be placed in many locations within a room. Many use a monogram to dress up a partitioning wall or place a monogram image behind a head table. Monograms can even be placed on a dancefloor for a beautiful effect.
Direct Pinspot Style Lighting
Utilizing this style of lighting design, we can direct your guest's attention to important aspects of a room's décor or spotlight items such as floral arrangements or a wedding cake. Pinspots shine downward from multiple angles to completely illuminate the item. Even the smallest of items can be pinspotted effectively. Some additional examples where pinspots are utilized include: spotting a guest book, photo frame, or flower bouquets.